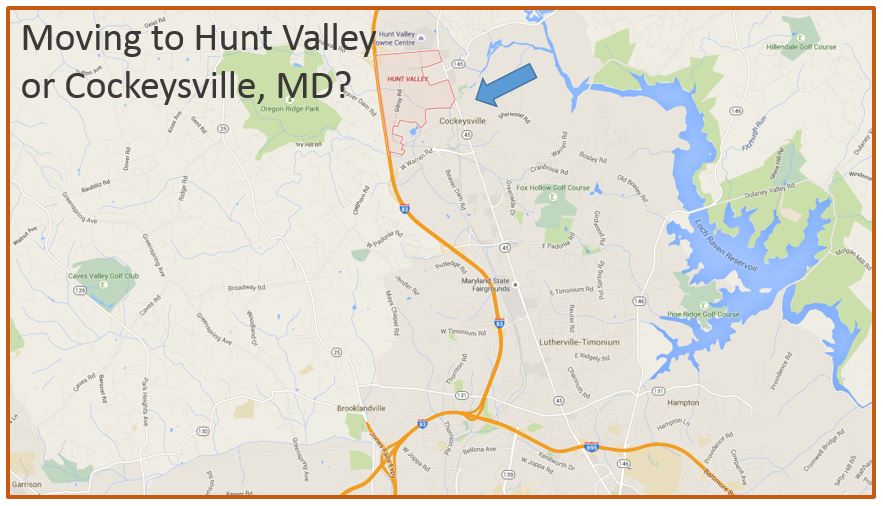 Are you thinking of moving to Hunt Valley or Cockeysville in Maryland? Here's what you need to know.
Hunt Valley and Cockeysville share the 21030 zip code in Northern Baltimore County and both have easy access to downtown Baltimore via I 83. Hunt Valley is known for its shops, hotels and businesses while Cockeysville is known for its antiques, beautiful neighborhoods and wide variety of homes. Let's take a closer look.
What Makes Moving To Hunt Valley Special...
Hunt Valley is known as the business side of the 21030 zip code. It is anchored by the Hunt Valley Town Centre, which has Wegman's, a great movie theatre, super restaurants like The Green Turtle, Outback Steakhouse and Carraba's Italian Grill and unique shops like Greetings and Readings, WaveDancer Board Shop and Pier One Imports.
Everyone loves to go to Hunt Valley because it truly offers something for everyone, is easy to get to, has great parking and a small town vibe.
Businesses in Hunt Valley include McCormick and Company, Paypal, PHH Corporation and Proctor and Gamble. When given an opportunity to work in Hunt Valley, people jump at the chance because it is such a pleasant work enviroment.
A variety of hotels are also in the area like The Hunt Valley Wyndham Grand, Embassy Suites and Marriott Courtyard.
What Makes Moving to Cockeysville Special...
Cockeysville is known as the historical and residential size of the 21030 zip code. It is known for its antique stores and "one of a kind" family owned businesses that line York Road.
The NCR trail really makes Cockeysville unique - the trail is very popular with bikers, walkers and joggers and the Gunpowder is popular for tubing. One of our favorite activities is stopping for a bit at the Monkton Bike Shop, renting a bike and hitting the trail. A fun time for the whole family and beautiful too.
Oregon Ridge Park is also wonderful with its trails, the lake and Baltimore Symphony Orchestra concerts on summer nights. You will never run out of things to do here so check out the list of activities.
There are so many popular neighborhoods in Cockeysville that it is hard to name them all. Unique neighborhoods include Ashland at Hunt Valley, Highview at Hunt Valley, Laurelford, Springdale, Ivy Hill and so many more.
Cockeysville truly is one of the most special neighborhoods in Baltimore and we would love to introduce you to it and all of its wonderful amenities. Yaffe Real Estate and Chesapeake Property Management, Inc. welcome the opportunity to help you with all of your real estate needs in Baltimore County.
>> See Moving To Baltimore? 10 Insider Tips You Need To Know
>> See 3 Reasons Why Yaffe Real Estate Got Started In The Baltimore Market