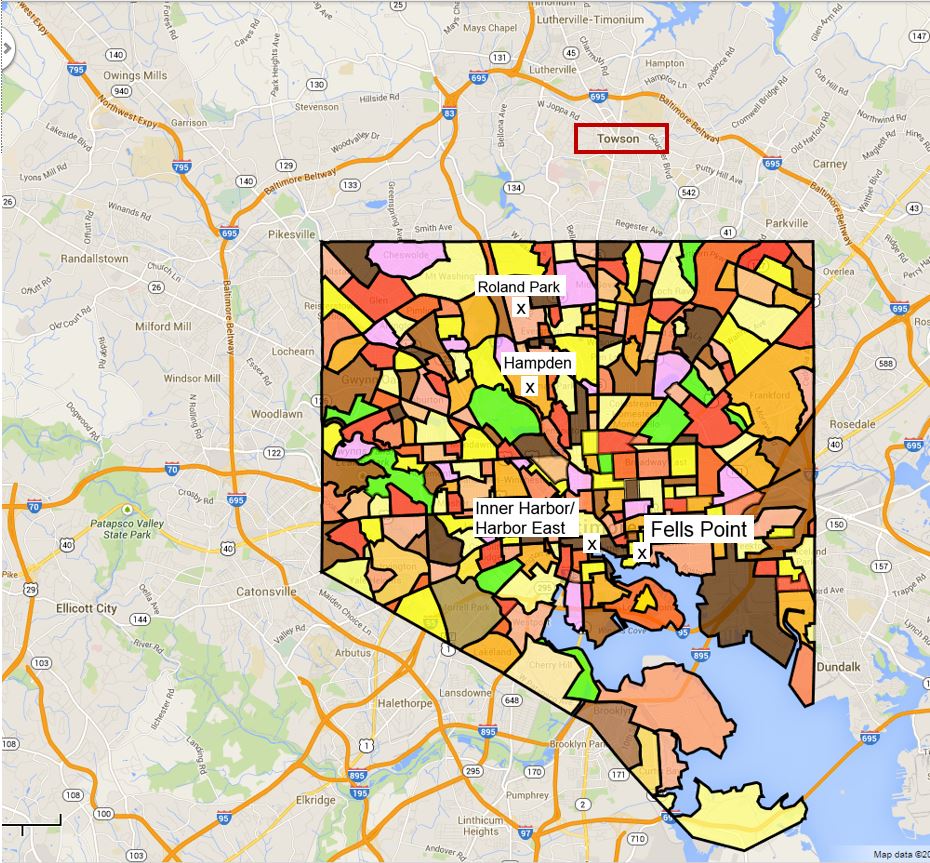 If you're moving to Baltimore, you're in for a treat. Baltimore is unlike any other city - especially when you have an insider's perspective.
In this article, I'll share 10 insider tips so you can get started on the path to knowledge before actually moving to Baltimore!
1. Lacrosse season in Baltimore is crazy!
Yes, it is April and I just happen to have lacrosse on my mind. Why? Because it is everywhere! Imagine football in Texas and ice hockey in Minnesota. Now add private schools, preppy kids and affluent parents and you have lacrosse in Baltimore.
In April, the MIAA (boys' lacrosse league) and the IAAM (girls' lacrosse league) have tons of games and the excitement is quite high.
Add McDonogh (the #1 high school girls' team in the country), Johns Hopkins, Maryland (the #1 women's team in the country), Towson and Loyola in the area, and you have lot of lacrosse action within a very small radius.
It is so prevalent that when someone introduces themselves to me and tells me that their kids play baseball or softball, I reply "where are you from?" as most Baltimoreans know that spring season is lacrosse season.
Enjoy the action!
2. Johns Hopkins has a lot of influence in the Baltimore area.
Johns Hopkins is one of our top employers in the area and these people are really smart! Between the university and the hospital, we have here Hopkins doctors, medical residents, fellows, administrators, professors and students in the area. Wow - that is a lot of smart people. The doctors usually have to live within 20 minutes of the hospital so we often see them buying homes along I83 near the 695 interchange.
Popular zip codes are 21093, 21209, and 21210. Renters usually live in the city or 21117 due to public transportation going into the lower level of the hospital.
>> See Moving To Baltimore Because of Match Day?
>> See Owings Mills Metro Centre Is Happening! Here's What You Can Expect
>> See Moving to Owings Mills, Maryland? 11 Reasons You'll Love It!
In addition, patients from all over the world come for care at Hopkins and often stay long term. Their families often rent or buy homes, depending on the diagnosis, so they can be nearby. We know how difficult these situations can be and we are here to help.
3. Crabs, Crabs and More Crabs!
We love our hard shell crabs! During the summer and early fall, we love to eat crabs and enjoy getting messy. This is not for the faint of heart and you have to get your hands dirty. Crabs and Natty Boh is a Baltimore tradition. So, let down your guard and enjoy the experience.
4. Preakness is in May!
We do love our Preakness, the second leg of the Triple Crown. The Preakness takes place the third Saturday in May at the Pimlico Race Track in Maryland. There is the grandstand area (you see that on TV) where the women wear their beautiful hats and are dressed nicely and then there is the infield.
There is nothing I can say to truly describe the infield. Wild, crazy, not dignified at all and so much fun for the younger crowd!
Preakness this year is May 16th. So, depending on your age and your disposition, Preakness, infield or grandstand, is the place to be!
5. Harbor East and the Inner Harbor neighborhoods are really booming!
Baltimore has pumped a lot of money and investment into the downtown area and it shows.
Enjoy a stroll along the promenade between the Inner Harbor and Fells Point.
Enjoy the shops at Harbor East (including Under Armour's flagship store).
Take a water taxi from Fells Point to Federal Hill.
Watch the fireworks from the Harborview area and more.
The harbor looks great and it is lots of fun to enjoy on a Spring and Summer night. And you can catch an Orioles game, too!
>> See 5 Favorite Baltimore Area Neighborhoods
6. Baltimore is the home of Under Armour!
Kevin Plank graduated from the University of Maryland at College Park and he currently lives in Baltimore County. The Under Armour store is right at Harbor east and we definitely favor buying local so Under Armour is the coolest clothing in the area. Just so you know...
7. We are all Terps.
Yes, I know that Johns Hopkins, Loyola, Goucher, Towson, and Stevenson are in the Baltimore area. But the flagship school for the region is the University of Maryland at College Park (one hour away) and when the Terps are in town, we are all Terps.
UMD is a great school with great academics and great sports teams and we are proud to cheer on our Terps whenever we get the chance.
8. Baltimore is a City of neighborhoods.
Baltimore has a very unique history and each neighborhood has its own personality and vibe. From Federal Hill to Fells Point, Roland Park to Homeland, Owings Mills to Towson, each neighborhood has its own restaurants, shops and community hubs. As a native Baltimorean and a local business owner, we love to welcome people to our home town and show you around the many neighborhoods and areas. Whatever you want, we have it.
>> See 3 Reasons Why Yaffe Real Estate Got Started In The Baltimore Market
Out of towners often narrow down their search based on home, amenities and schools first. But we Baltimoreans choose neighborhood first and compromise on the home amenities. Because we know that each neighborhood is so different and that we want to find a community that feels right to us, not just a house with amenities. So let's talk about your lifestyle first and the rest will follow.
9. Everything is 20 minutes away!
Well, it used to be. We locals still like to think that everything is 20 minutes away but the truth is that traffic and commuting times have increased as people have discovered our home town. so what used to be a 20 minute commute may be a 40 minute commute, depending on the time of day. When looking for your new home, make sure you drive your route during rush hour so you can be accurate. This is really important as most people house hunt on weekends, when everything is calm, but we advise that you drive your commute during rush hour, before you sign your contract.
>> See Buying A Home In The Baltimore Area? Go Local!
10. The Baltimore Area weather is completely unpredictable.
A few weeks ago we had 70 degree weather one day and snow flurries the next. This past winter was long and cold but now our skies are gorgeous and sunny. So if you move to Baltimore, bring all kinds of clothing and be prepared for anything. And, yes, our drivers do not know how to drive in the snow so be prepared to laugh a lot at the pre-snow preparations and school closings.
So, Welcome to Baltimore, our home town!
We know that it is hard to know who to trust when you are new to the area. Whether you are looking to buy or rent a home, you can trust us, we are here to help.
>> See Not Sure Who To Trust In The Real Estate Business?
>> See Buying A House This Spring? Ten Tips To Get You Started.
>> See Looking To Rent A Home In The Baltimore Metro Area? 9 Things You Need To Know