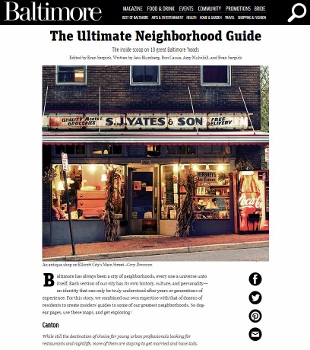 Every Tuesday morning, we come together to discuss the real estate market and what we've each observed. In a recent session, we got to discussing the Baltimore area's many great neighborhoods and what we liked about them. We came up with 5 to share with you today.
We were inspired by The Ultimate Neighborhood GuideThe inside scoop on 10 great Baltimore 'hoods which, although written in 2011, provides an insider's perspective on Canton, Cockeysville, Ellicott City, Federal Hill, Hampden, Harbor East, Mt. Vernon, Station North, and Towson. You'll enjoy the article.
Yaffe Team's Five Favorite Baltimore Area Neighborhoods
Now, we're biased about this area. We live and breathe Baltimore. We love that Baltimore has history, a waterfront, great football and baseball, and many distinct areas to suit a variety of living preferences. In other words, we really enjoy being a Baltimore area real estate agency. And we all take advantage of what Baltimore has to offer.
We also like sharing what we love best. So, here are five of the Yaffe Team's favorite Baltimore area neighborhoods.
Kelly and Mary love Towson, Maryland!
Kelly Hepting, Client Services Division, Chesapeake Property Management, Inc., and Mary Towle, Real Estate Partner, Yaffe Real Estate, both love Towson, Maryland.
Kelly lives in Towson, She explains,
"While I appreciate visiting all the other neighborhoods I like Towson because it is very close to all my needs. We can drive or walk to the mall, a variety of restaurants, gyms and yoga studios, movies, grocery stores. There are many adult and family friendly entertainment options such as Feet on the Street, farmers markets, festivals, live music and sporting events at Towson University.
My neighborhood (Southland Hills) is still relatively safe and very clean. We live in a quiet neighborhood with a great community spirit and have wonderful schools.
With Towson University so close, the students help give the community a young and active feel.
At this stage of my life, my favorite activity is to walk to Towson with my family on a Saturday morning for breakfast and visit the bookstore after."
Mary Towle lives in
Cockeysville in Baltimore County
. She likes that Towson is "
close to everything - Baltimore county and the city activities. Good restaurants, shopping, ties to the community since it's where I grew up."
Her favorite places to visit inTowson include the
TowsonTown Center and downtown Towson for restaurants and walking.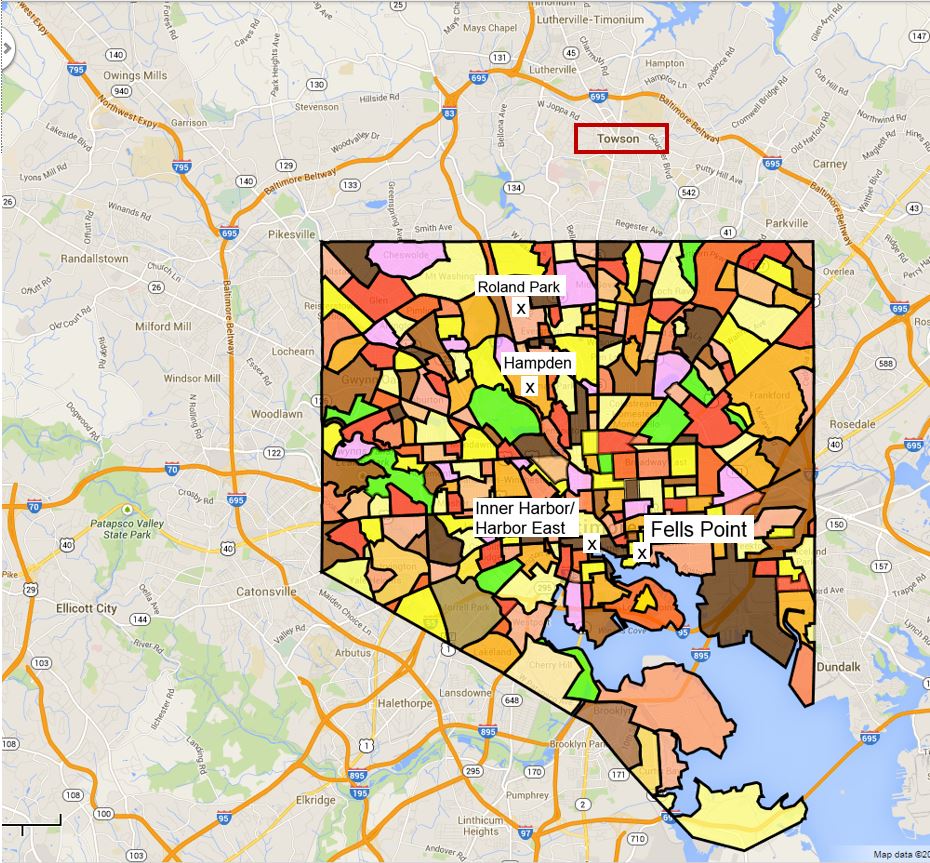 (Click on the image for a larger version of the map. Also check out the interactive Google map of Baltimore Neighborhoods.)
Linda's favorite Baltimore area neighborhood is Roland Park.
My favorite neighborhood is Roland Park which is considered, according to Wikipedia, "the first planned suburban community in North America ... developed between 1890 and 1920..."
Although I live in Lutherville-Timonium in Baltimore County, I love that Roland Park is a real neighborhood, convenient to schools, local shops (Starbucks, Eddie's), parks and outdoor activities – you'll find lots of walkers, bikers, recreational activities and lots of educated, interesting people.
Roland Park is an easy commute to downtown Baltimore. too.
When you go there, be sure to go to Eddie's for the best sandwiches you can imagine (try the Baltimore!). Grab a cup of coffee at Starbucks, catch a baseball game at Gilman fields, take a walk around the neighborhood. It's just a great place to be.
Juli wants you to visit Hampden in Baltimore City!
Juli Stein, with Chesapeake Property Management, lives in Reisterstown, Maryland, very close to Owings Mills. Her favorite neighborhood is Hampden, in Baltimore. Juli says,
"Hampden has lots of great and quirky restaurants and boutiques. I just had an excellent dinner at Golden West Café and delicious homemade ice cream at The Charmery.
Hampden is a great place to spend a few hours strolling around, stopping in the boutiques, purchasing Baltimore-ish gifts, and having a great meal."
Jessica says Harbor East is the place to visit in Baltimore!
Jessica Alperstein, Real Estate Partner, Yaffe Real Estate, lives in Pikesville/Mount Washington in Baltimore County. Her favorite Baltimore neighborhood is Harbor East. She explains,
"I love the ability to walk everywhere, shops, restaurants,movies, waterfront, Inner Harbor, Aquarium, Power Plant, etc. There is so much to do in such close proximity. It's one of the best benefits of city living in my opinion.
My favorite places to visit include Arhaus Furniture, Ouzo Bay Restaurant (awesome outside seating overlooking the harbor), Charleston Restaurant (a Cindy Wolfe restaurant and Baltimore staple), Under Armor, Anthropologie, Marriott Waterfront Hotel (Grille 700 has an amazing Sunday Brunch), and Haute Blow Dry Bar so you can look your best before a night on the town!"
Kristin loves Fells Point.
Kristin Karukas, Yaffe Real Estate, lives in Westminster in Carroll County. It's close to Baltimore and DC. Her favorite Baltimore neighborhood is Fells Point because there are so many different things to do for all!
These are her recommendations for Fells Point:
The Farmers Market – a great way to spend a Saturday morning
Local restaurants – Pazo (tapas), Black Olive (Greek) and Bertha's (mussels) are some of my favorites
Fells Point Fun Fest – great for food, drinks, music and people watching
Different bars host bands nightly and especially on weekends. I love going out with friends, grabbing a drink and listening to local bands!
Lots of small, locally-owned shops
Take the Water Taxi to the Inner Harbor if you need even more options
Those are the neighborhoods we consider among the best in the Baltimore area. What are yours? And what do you recommend doing in those neighborhoods?