Columbia Area Information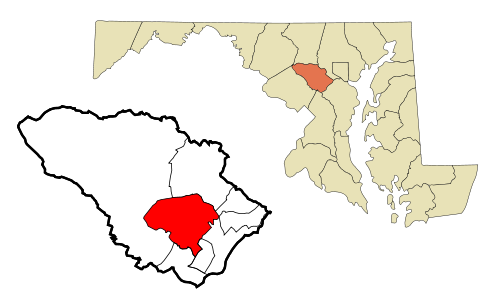 If you're looking for information about Columbia and Ellicott City in Maryland, you've come to the right page.
Columbia, Maryland is a planned community that consists of ten self-contained villages, located in Howard County, Maryland. It is a suburb of Baltimore and, to a lesser degree, Washington, DC. It began with the idea that a city could enhance its residents' quality of life. Creator and developer James W. Rouse saw the new community in terms of human values, not just in terms of economics and engineering. Opened in 1967, Columbia was designed to not only eliminate the inconveniences of then-current subdivision design, but also eliminate racial, religious, and income segregation.
Today, Columbia has a population of about 99,615 (per 2010 census) and is the most populous census-designated place in Maryland. By the early 2000s, the town had acquired many of the characteristics of other contemporary U.S. suburbs, such as increasingly large private homes on large parcels and "big box" retail stores accessible mostly by automobile. Rouse's ethos remains a strong influence upon the physical and political development of Columbia.
The village concept is aimed to provide Columbia a small-town feel (like Easton, Maryland, where James Rouse grew up). Each village comprises several neighborhoods. The village center may contain middle and high schools. All villages have a shopping center, recreational facilities, a community center, a system of bike/walking paths, and homes. Four of the villages have interfaith centers, common worship facilities which are owned and jointly operated by a variety of religious congregations working together.
Most of Columbia's neighborhoods contain single-family homes, townhomes, condominiums and apartments (though some are more exclusive than others). The original plan, following the neighborhood concept of Clarence Perry, would have had all the children of a neighborhood attend the same school, melding neighborhoods into a community and ensuring that all of Columbia's children get the same high-quality education.
Columbia takes its street names from famous works of art and literature: for example, the neighborhood of Hobbit's Glen takes its street names from the work of J. R. R. Tolkien; Running Brook, from the poetry of Robert Frost; and Clemens Crossing, from the work of Mark Twain. The book Oh, you must live in Columbia! chronicles the artistic, poetic, and historical origins of the street and place names in Columbia.
The Mall in Columbia is a large regional shopping mall with five anchor department stores (Nordstrom, Lord & Taylor, Sears, Macy's, and JC Penney) and over 200 stores and restaurants. Also containing a 14-screen AMC movie theater, an LL Bean retail store, a Cheesecake Factory restaurant, and a Bank of America, the Mall is a societal center for the community and is located in Town Center.
There are several other major shopping centers in the Columbia area, including Snowden Square, Columbia Crossing I and II, Dobbin Center, Gateway Overlook, Ellicott City's Long Gate Shopping Center, and Hanover's Arundel Mills (in neighboring Anne Arundel County).
Columbia's nine "village centers" provide residents with nearby shopping as well, often including supermarkets, gas stations, liquor stores, dry cleaners, restaurants, and hair salons. The village centers are laid out so that individual stores are not visible from the road, unlike traditional strip malls). The arrangement is criticized because it makes it difficult for newcomers and non-residents to know what shopping is available; it is praised for eliminating much of the garishness of roadside America.
Search Columbia Homes for sale
---
Ellicott City Area Information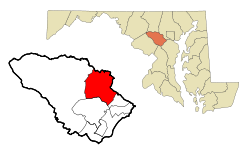 Ellicott City is an unincorporated community and census-designated place in Howard County, Maryland. The population was 56,397 at the 2000 census. It is the county seat of Howard County. Founded in 1772, the town features the Baltimore and Ohio Railroad Station Museum, built in 1830, and a downtown historic district which is a very popular destination among antiques shoppers, with restaurants, eclectic boutique shops, coffee shops, a tea room and many historic sites. As of the 2000 Census, Ellicott City surpassed Towson, Maryland, as the largest unincorporated county seat in the country.
In July 2005, Ellicott City was ranked the 20th Best Place to Live in the United States by CNN/Money and Money magazine. In July 2006 Ellicott City was ranked 4th in the same survey, and ranked 8th in July 2008.
Ellicott City is listed among America's most affluent communities and is located in Howard County, the third wealthiest county in the United States according to the U.S. Census Bureau.
The downtown area is often called "Historic Ellicott City" or "Old Ellicott City", to distinguish it from the unincorporated area that extends north to the Baltimore County line, south to Columbia, and west to West Friendship.
Search Ellicott City Homes for sale
---
Elkridge Area Information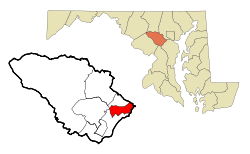 Elkridge is located in Howard County, Maryland. The population was 22,042 at the 2000 census. Founded early in the 18th century, Elkridge is located at the confluence of three counties, the other two being Anne Arundel and Baltimore counties. It is bordered on the north by Catonsville, on the east by Linthicum and Baltimore-Washington International Airport, on the south by Dorsey, and on the west by Ellicott City and various small communities between it and Columbia.
Elkridge had a rich history of industries including pig-iron forging, basket weaving, paper, cotton and grist milling, as well as employment from the B&O Railroad. The Thomas Viaduct, located over Levering Avenue at the entrance to the Patapsco Valley State Park, is the oldest stone curved bridge in the world. Built in 1833, its architect was Benjamin Latrobe, Jr. The B&O first used horse-drawn coaches in relays, hence Relay Station was added. The viaduct also carried the Tom Thumb, and the first telegraph message from Washington, D.C., stating "What has God wrought?" was wired across.
Search Elkridge Homes for sale
---
Clarksville Area Information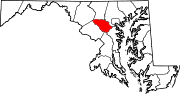 Clarksville is both the name of an unincorporated community and the name associated with District 5 in Howard County in the U.S. state of Maryland. The United States Census Bureau uses the district as a county subdivision for statistical purposes. The community is named for William Clark, a farmer who owned much of the land on which the community now lies.
According to the Howard County Economic Development Authority, the community of Clarksville had a population of 16,593 as of 2007. The village of River Hill is contained within Clarksville, the newest addition to the planned community of Columbia.
Clarksville's public schools, part of the Howard County public school system, are among the highest-ranked in the nation and often have significantly higher funding than competing private and charter schools. Some of the most expensive homes on the East Coast are located in or around the town, whose property values are among the highest in the country.
Clarksville is perhaps best known for its highly successful high school, River Hill. The school made the 397th rank on Newsweek's Top 1,200 High School. River Hill, originally a tech-magnet school specializing in mathematics and electronics, became a regular high school in 2002. It has 1,652 students and ranks as one of the top schools in the state of Maryland. In 2005, River Hill has a 97.55% graduation rate, ranking the highest in Maryland. 86.3% of its students passed the HSA (High school Assessment). River Hill is also very successful in sports, capturing numerous state titles in many sports. The boy's soccer team has captured three of the last four class 3A state titles (losing in 2006 to rival Mount Hebron). In 2007 River Hill also won the boy's basketball 3A state title and won in the state championship for football.
The area is located southwest of Baltimore and north of Washington, D.C., and many residents of Clarksville commute to work in one of these two cities or their close-in suburbs.
Or, simply click on Search Columbia and Ellicott City real estate listings.
Search Clarksville Homes for sale
---