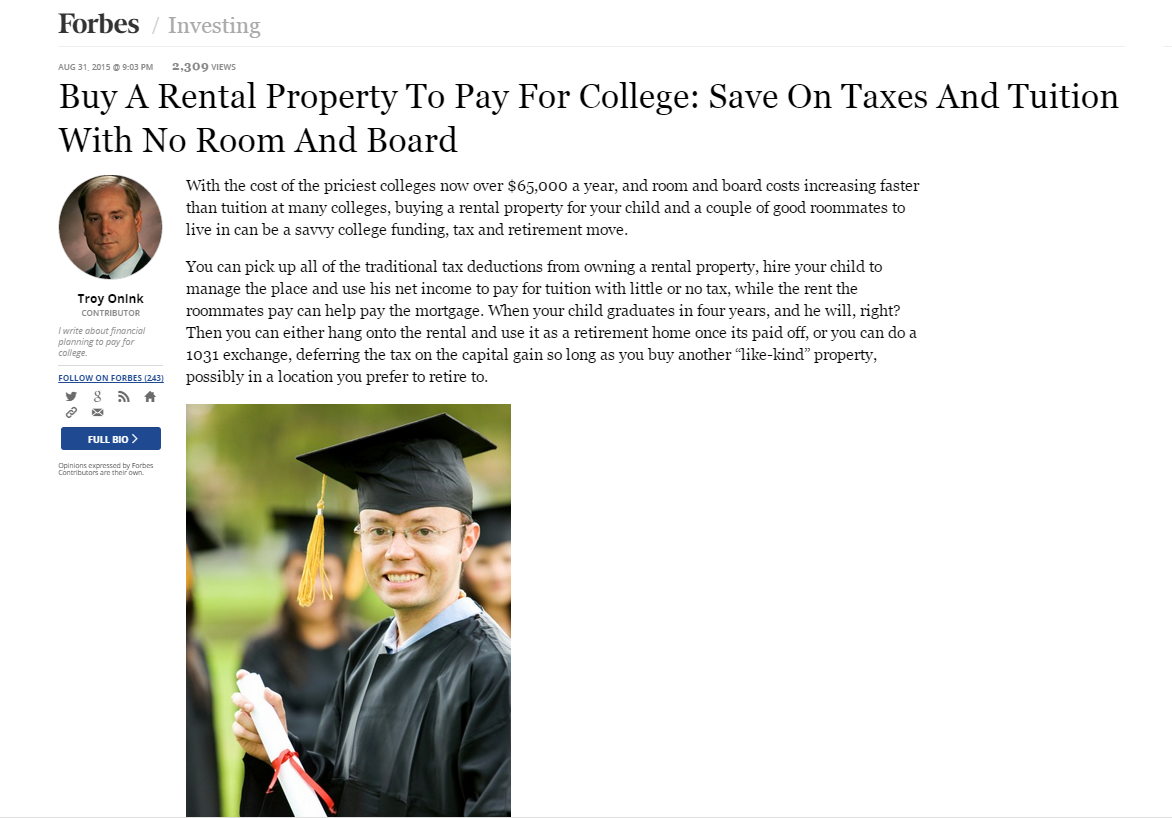 Did you just drop your child off at college? Are you astonished at the high cost of tuition, room and board and wondering how you'll pay for college?
We are! And so are our clients. These prices are out of control and many of our clients are seeking a more creative way to handle some of these costs - including buying a rental property to pay for college.
Forbes Article Details Benefits of Buying a Property to Rent Out to Pay For College
We have noticed a trend in our area, similar to what this Forbes article titled Buy A Rental Property To Pay For College: Save On Taxes And Tuition With No Room And Board describes, with parents buying rental properties for their college student to offset the price of housing and to offset the price of tuition.
Most of the parents that we are dealing with in the Baltimore Metro Area have students at Stevenson University (Owings Mills), Towson University (Towson), Goucher College (Towson), Loyola University (Roland Park in Baltimore City), University of Maryland Baltimore County "UMBC" (Catonsville) and Johns Hopkins University (Charles Village and Hampden in Baltimore City). Each rental market is different so we will break it down for you.
Stevenson University in Owings Mills:
Stevenson is an up-and-coming school and has really expanded over the past few years. The on campus housing has not kept up with the increased student population so we get calls every summer from students looking for housing. Due to Baltimore County's zoning rules regarding limits on unrelated parties in housing, we often have to educate the callers on the fact that we cannot place 4 unrelated parties in one of our Chesapeake Property Management properties.
But what if a parent of a student bought a home? And perhaps there was another family member that also needed housing? Then the Landlords's child could become the property manager, have their brother/cousin as another tenant and bring in another tenant. With all of them paying rent, that may offset the mortgage payments. Add in tax deductions, a larger housing option and proximity to campus, and this may be a rental property that the Landlords hold on to for years to come.
>> See Tax Deductions & Rental Property Depreciation Advice For 1st Time Landlords
>> See 11 Reasons For Buying A Home In Owings Mills, Maryland
>> See Yaffe Real Estate's available rentals
Towson University & Goucher College in Towson:
Both Towson and Goucher are in Towson, a wonderful college town and our Baltimore County seat.
The housing stock tends to be older than that in Owings Mills so you really have to buy carefully, to make sure you don't get caught with a fixer upper. Also, the residents in Towson are very wary of the large Towson University student population so you really have to follow the rules carefully or you will absolutely get reported. I personally know of several Landlords who have paid fines for violating the rules on the number of unrelated parties in the home.
Towson University is growing and is surrounded by lovely, older, settled communities. So, please make sure that your child is ready to live in a quiet community with rules and regulations before you make your purchase.
>> See What You Need To Know If You're Moving To Towson, Maryland
>> See Renting an Individually Owned Home vs An Apartment: What's Different?
University of Maryland Baltimore County in Catonsville:
UMBC is on the west side and has a totally different community vibe.
Catonsville is a wonderful older area with a variety of housing choices. In the Baltimore area, Towson University with 22,000+ students gets a lot more attention than UMBC with almost 14,000 students so we don't hear as much about housing issues at UMBC. That is a good thing. However, as an honors college, UMBC is an amazing place and has really creative and smart students who intern at many government jobs at Ft. Meade in Anne Arundel County. With easy public transpiration access to BWI, Anne Arundel County, Baltimore and Washington, DC, an investment in UMBC housing is a great investment that can provide cash flow or tax deductions for years to come.
>> See 12 Tips for 1st Time Landlords In The Baltimore Market
>> See Thinking About Applying For A Rental Property? Here's The Process
>> See Relocating to Anne Arundel County? Check Out Piney Orchard in Odenton, Maryland
Johns Hopkins University and Loyola College in Baltimore City:
These two schools are located within Baltimore City and, therefore, the rules are a bit different.
You may have 4 unrelated parties in a home in Baltimore City. However, the housing inventory is older and you really need to buy smart. Whether your student is an undergraduate or a graduate student (Johns Hopkins or University of Maryland at Baltimore), your student will be busy and will probably not want to be responsible for repairs on a daily basis.
Find a great agent who really knows the area, can recommend excellent inspectors and understands realistic rental values so that you make a good investment decision.
>> See How To Find The Right Real Estate Agent For Your First Home Purchase
>> See 5 Favorite Baltimore Area Neighborhoods
>> See How To Find The Right Real Estate Agent For Your First Home Purchase
Thinking of Buying a Property to Rent Out for College?
As Landlords ourselves and as the owners of Chesapeake Property Management, all of us at Yaffe Real Estate are in a unique position to not just help you with your real estate purchase but to really partner with you on educating you on the rental market, your responsibilities as a landlord and how to find great tenants.
Yaffe Real Estate & Chesapeake Property Management, your one stop real estate shop. Give us a call, we are here to help. No pressure, I promise.
>> See Not Sure Who To Trust In The Real Estate Business?
>> See 3 Reasons Why Yaffe Real Estate Got Started In The Baltimore Market
Linda
{{cta('fe1f9f15-5362-4183-b72a-67c2b0654ad7','justifycenter')}}