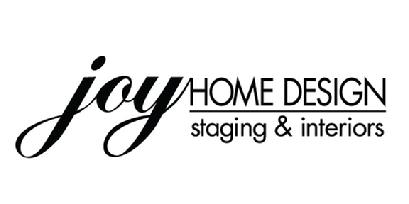 An effective way to help your home stand out when you list it for sale or for rent is by staging your home.
By staging, you engage the services of a professional home stager to show off the strong points of your property. Someone like Joy Waida, owner and principal of Joy Home Design and a professional home stager. We recently caught up with Joy to learn more.
Meet Professional Home Stager Joy Waida, Joy Home Design
Linda: Joy, tell me about yourself and your background.
Joy: I graduated from the University of Delaware with a B.A. in International Relations with minors in Spanish and Latin American Studies. After 13 years in international business, I decided to pursue design first in the homebuilding industry and then on my own. I worked as a Design Consultant, a Design Center Manager and with the Home Builders Association of Maryland for 5 years before starting my own home design business in 2005. 18 months later, I added Home Staging services which are now the primary focus of my business. That was seven years ago!
I am certified as an ASP™ or Accredited Staging Professional™ from the founder in the industry of staging, Stagedhomes.com™.
Linda: Why do you love home staging so much?
Joy: I love the immediate gratification of staging. From having worked with so many new home owners in the home building industry, I understand what appeals to and attracts home buyer and renters. When I combine that expertise with my design training, I'm able to truly help home sellers and landlords make their homes more appealing and attractive. And I can help them do it in a very practical way by staging your home.
Staging is a theater metaphor and that's what stagers do for homes to help them sell faster - assuming the houses are priced properly. It's important for home owners to work closely with their realtors.
The result is that houses tend to sell or rent within 30 days. In today's real estate marketplace - which is a buyer's market - it's important to make sure that your home looks its best. Staging a home helps to accentuate a home's best features. It also gives people ideas on how to use spaces. Ultimately, design for living and design for selling are two different things. If you seriously want to sell your home or rent it out, you will want to acknowledge this. For many people, this is very difficult; surroundings are personal. Part of my job is telling home owners the truth about their home in a professional and diplomatic way.
Linda: What home staging services does Joy Home Design offer?
Joy: When it comes to staging a home, we offer staging consultations as well as hands on staging services.
The most popular service is the Walk 'n Talk Consultation. That's where we meet with a home owner who is at the very early stages of getting a house ready to be listed for sale or for rent. We go through the home room by room while the owner takes notes about what exactly needs to be done to prepare the home for the market.
After that consultation, we can provide a quote to actually stage the house. That might include rental furniture or accessories that may be needed. We have our own inventory of furniture and accessories and also work with major furniture rental companies to provide a broad range of styles. We complete all staging work in 1 day and are licensed and fully insured for your protection.
We can consult with you by the hour to make recommendations on how to make your home look more up-to-date. This might include suggestions on how to place furniture, colors for painting a space, or appliances to update. This can be very relevant for a rental property. It's important to know how much to improve and when over improving isn't practical.
Linda: What's involved in staging a staging? Do you prefer empty houses or ones with stuff?
Joy: Home staging is much better when there are no people. Primarily because you don't want the home to be about the personality of the home owner. Rather, it's about showing off the house itself. That's why the staging consultation – the one hour walk 'n talk - before the house is listed and while you are still living in your home is so valuable. I'm able to give the home owner specific ideas on what to do to get the house ready for the market while the home owner takes notes.
After the appointment, I can provide a quote for accessories needed for the staging. You will need to pack up your personal stuff. Before staging can take place, the house needs to be prepared. In addition to being decluttered, it needs to be clean and improvements may need to be made.
The most common problems I encounter in homes is that they need:
To be decluttered (take it out when in doubt)
To be depersonalized – this refers not just to photos, but also your design style (for example, you'll want to remove your collection of Disney memorabilia). Nothing in the house can look super extreme one way or the other. The style needs to be middle of the road or mass market retail as we like to say.
Arrangements – it's important to create focal points. When you walk into a room, you shouldn't have a lot to focus on. The home stager looks to draw attention to the good things in each room and knows which wall will be seen first.
To have function be obvious. For those spaces that are questionable, a home stager makes function obvious.
To have any negative features minimized.
Linda: Joy, how can people reach you?
Joy: I provide staging services in the greater Baltimore area, in all surrounding counties. My office is located at 105 Fallston Meadow Ct. in Fallston, MD 21047. You can reach me via phone at 443-621-8077 and via email at [email protected].
You can also find us on Facebook where we post many pictures of homes we have staged.
Check us out on Houzz. To learn more, you can also watch the 2 minute video Meet Joy Waida, Best Home Stager, Baltimore Magazine's Best of Baltimore 2009.
Linda: Thanks, Joy!
Is your home on the market? Consider staging your home to help sell it. Let me know if you have any questions.