National Night Out 2014 took place in Owings Mills New Town on 8/5/14 from 6 to 8pm in Central Park at the corner of New Town Boulevard and Fitch Hill Drive. It is sponsored by the Owings Mills New Town Community Association.
Both Chesapeake Property Management and Yaffe Real Estate were in attendance for the fourth annual celebration of this wonderful event. We consider this one of our favorite neighborhood activities as it brings together members of the the community for an evening of great fun. To top it off, the weather was breathtakingly beautiful!
What is National Night Out?
According to the National Night Out organization,
"National Association of Town Watch (NATW) is a non-profit organization dedicated to the development and promotion of various crime prevention programs including neighborhood watch groups, law enforcement agencies, state and regional crime prevention associations, businesses, civic groups, and individuals, devoted to safer communities.
The nation's premiere crime prevention network works with law enforcement officials and civilian leaders to keep crime watch volunteers informed, interested, involved and motivated. Since 1981, NATW continues to serve thousands of members across the nation."
Owings Mills' Finest Enjoy National Night Out 2014
The program was first introduced in 1984 when 2.5 million Americans in 23 states and 400 communities participated. National Night Out now involves over "37.8 million people and 16,124 communities from all fifty states, U.S. Territories, Canadian cities, and military bases worldwide."
It's an opportunity to bring together members of the community along with the safety and crime prevention organizations and celebrate all that's good about a neighborhood.
Neighboring Towson, MD held its NNO event at the same time.
TACOP leads National Night Out procession through Towson
explains that,
"Though publicity for National Night Out includes an invitation to residents to participate by turning on their lights, walking their neighborhood streets and cheering as the motorcade passes by, many people were surprised by all the noise and, flashing red and blue lights."
When it comes to the Owings Mills neighborhood, we celebrated in style with face painting, balloons, free food and all kinds of demonstrations and really enjoyed getting to speak to people and answer their questions about living in the area (including What Prospective Tenants Should Know About the Owings Mills Rental Market).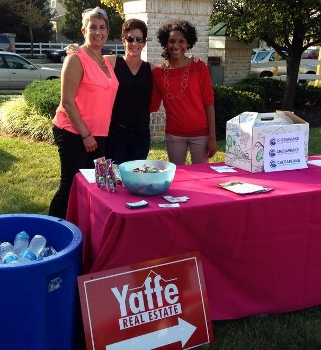 From left to right, Kristin Karukas, Linda Yaffe and Kristen Thompson from
Yaffe Real Estate and Chesapeake Property Management
Here's an account of the Owings Mills National Night Out from The Friends of Soldiers Delight at the National Night Out in Owings Mills who brought two raptors and a variety of invasive plants to the event.
Owings Mills Neighbors We Appreciate!
A neighborhood activity such as National Night Out is a great way to call attention to Owings Mills businesses we appreciate intensely. Here are two we think you'll enjoy as much as we do.
Gourmet Girls Personalized Catering
Located at 1 Easter Court, Suite D, in Owings Mills, MD, Gourmet Girls offers catering as well as dining. We love their weekly Gourmet Girls specials and appreciate the care they take to create delicious food.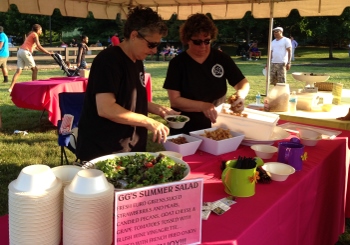 Gourmet Girls at Owings Mills National Night Out 2014
Master Lee's KS White Tiger Martial Arts
Located at 9770 Groffs Mill Drive in Owings Mills, Master Lee offers a terrific martial arts program for adults and children. During National Night Out, he held several demonstrations that everyone enjoyed tremendously.
Have you attended a National Night Out? What do you like most about the event? Let us know in the comments.