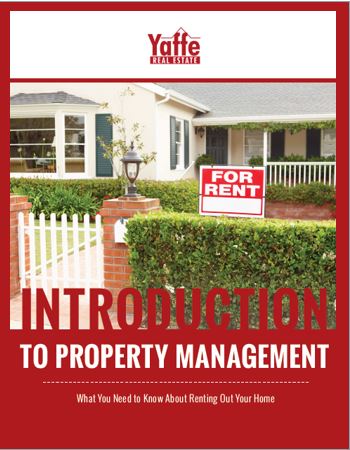 Are you thinking about renting out your home?
Perhaps you're moving overseas for two years and don't want to sell your home.
Perhaps you're ready to move to a bigger or smaller home and aren't willing to sell what you know is a fabulous location and desirable home.
Or, perhaps you aren't sure whether to sell or rent out your property.
If so, consider downloading Yaffe Real Estate's Introduction to Property Management eBook which explains what you need to know about renting out your home.
You'll have the information you need to help you figure out if becoming a landlord is right for you.
What You Need to Know About Becoming a Landlord
The Yaffe Real Estate team, along with our partner company Chesapeake Property Management, has accumulated considerable experience over more than 15 years of speaking with homeowners like you who are thinking about renting out your home. We know you have many questions about how your property will be taken care of if someone other than you rents it and lives there and what becoming a landlord involves. We developed the Introduction to Property Management eBook for that very reason!
This 16 page ebook addresses the following questions:
Should I Sell My Home or Rent it Out?
What Does a Property Manager Do?
What are the Risks Involved with Renting Out My Home?
Why Tenant Qualification is Important?
How a Tenant Repair Request is Handled?
What Tax Deductions Can I Take When I Rent Out My Home?
It provides you with perspective for evaluating your personal situation. It explains what you can expect from a professional property management organization, including evaluating potential tenants, taking care of maintenance issues and identifying the financial implications associated with becoming a landlord and considering your home as a financial asset.
How to learn more about being a landlord and renting out your home?
If you'd like to learn more, we invite you to download the Yaffe Real Estate Introduction to Property Management eBook.
Then, once you've read it, we hope you'll share with us your questions about what's involved in becoming a landlord and managing a property and whether you should rent out your home either in the comments or contact us.