If you're house hunting in the Baltimore area, this advice on how to use online real estate resources Zillow or Trulia may be helpful.
I suspect you are already familiar with Zillow and Trulia. They represent two of the largest online real estate resources. Visual and informative, they provide visitors with perspective on the real estate market in specific areas, by zip code or neighborhood. They allow you to dream about new places to live in - before actually being ready to speak with a real estate broker.
Once you are ready, though, to buy or sell a home, you'll want to consult a realtor and go beyond dreaming to making decisions about the right home for you.
Use Zillow and Trulia For Big Picture House Hunting Perspective
You'll love how Zillow and Trulia have created websites (and mobile apps) that integrate with maps and provide relevant snapshots about local schools, crime rates, mass transit access...
Both sites offer advice in the form of articles, education, Q&As and Forums where you can ask specific questions.
They let you quickly scan for nearby listings and comps. Beware, though, that the real estate property listing information is not 100% up-to-date (see Why You Shouldn't Use Third Party Sites To Find Real Estate Listings).
Zillow offers a tool called the Zestimate which generates a baseline for how much a property might be worth to buy.
Zillow also includes property tax information for specific properties.
On Trulia, you'll find a section called Local where you can dive deeper into the characteristics of a local area.You'll see information about crime, schools, commuting, amenities, affordability, demographics and hazards plotted on an interactive map.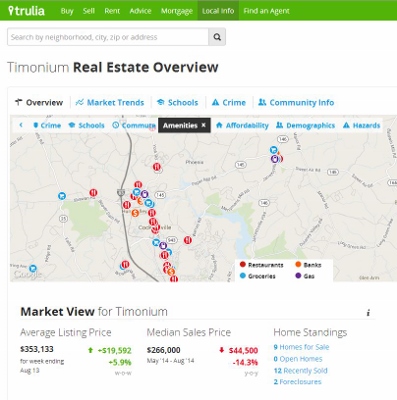 Both sites facilitate connections with real estate agents. After all, you'll want to work with a qualified real estate broker to go beyond surfing to checking out specific properties. Here is the Yaffe Team listing on Zillow and the Yaffe Team listing on Trulia.
Ready To Get Serious About House Hunting? Time to Contact a Professional Real Estate Agent
When you're ready to get serious, you'll want to connect with a professional real estate agent who can guide you in the purchase or sale of a property for these reasons:
Realtors have expert opinions to share (see The Benefits Of Having Realtors Give Opinions).
Given their local expertise, they are able to make sense of data, housing trends, and local knowledge.
They have strong ties to the community.
They are in the business of buying and selling property. Their guidance makes the home buying, selling or renting process go smoothly.
They can customize the process to meet your individual home ownership goals.
Realtors will have access to the most up-to-date property listing information for their area.
How Yaffe Real Estate Can Help You in the Baltimore Area
From 3 Reasons Why Yaffe Real Estate Got Started in the Baltimore Market, you know that Yaffe Real Estate knows the Baltimore area real estate market. Furthermore, we are committed to providing you with the most professional guidance and service as you buy, sell or even rent a home.
If you're house hunting in the Baltimore area, what have you found most helpful about Zillow or Trulia? How did your realtor help you find the right home? Let me know in the comments.