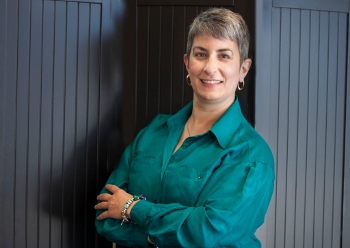 According to our clients, what makes Yaffe Real Estate different is how much we care about them - the people buying homes, selling homes, renting homes or those renting out their property. The reason we care is because of the people who make up the Yaffe Team and Chesapeake Property Management.
In this article, I want to introduce you to Kristin Karukas who has been part of the team since 1997 and cares intensely about our clients.
Meet Yaffe Team's Office Manager, Kristin Karukas
Linda: Kristin, tell us about yourself and your background.
I was born and raised in Baltimore! I grew up Cockeysville; when I met my husband, we lived in Owings Mills for 10 years, then we moved to Carroll County when we had our kids. It's a rural suburb of Baltimore and similar to the community I grew up in, except with larger lots. Although we are 15 minutes away from most major hubs, we can get to anywhere within an hour whether it's DC, Baltimore, or even southern PA. (See 5 Favorite Baltimore Area Neighborhoods to learn which are Kristin's favorite neighborhoods.)
I am the mother of 3 teenage girls, and to say we are busy is an understatement; however, I wouldn't change a moment. My oldest just transferred to a school in Greensboro, NC; my middle daughter is a senior in high school and has just chosen a college in Greensboro, NC. My youngest is a sophomore in high school; all three play soccer.
Linda:
How did you come to join Yaffe Real Estate?
My husband and I lived in Owings Mills NewTown where the Yaffe office is located. When we first moved in, the shopping center was just being built. My husband sells new construction for a local homebuilder. At the time, he was passing out information and noticed that the local real estate company had a help wanted sign on the door. I immediately went and met you, Linda, and you hired me. It was perfect and located across the street from my home.
17 years later here I am. I started out on weekends, part-time. I expanded to weekdays, and then I became full time. It's been a busy, fun ride ever since!
Linda: What is your role at Yaffe Real Estate?
I've done everything at Yaffe! I started out as weekend receptionist, then moved to weekday receptionist, then whatever needed to be done, I would do. I've been a closings manager, taken a deal from contract to close; I've had a brief stint as a buyer's agent. I've also done listings with you, Linda.
As office manager, I ensure that the office is running smoothly and that clients are taken care of. I'm also in charge of compliance for the office.
Linda:
Why is your compliance role so important?
Well, you're an attorney by training, and you use that legal training to assist people with real estate. Most real estate agents are people who like people and houses, and like to help them buy houses. However, as you know, the business of real estate is more than that. It's a complicated legal process and you decided to make a difference by using your legal background to really assist people with these big decisions. That's true for Yaffe Real Estate and for Chesapeake Property Management (see 3 Reasons Why Yaffe Real Estate Got Started In The Baltimore Market).
How I fit in is by backing up the legal part and making sure that every team member and every client and customer at Yaffe Real Estate and Chesapeake Property Management is in compliance across the board. I make sure that documents are current, that landlords and tenants have the proper insurance, that all of the i's are dotted and the t's are crossed in the paperwork we file, that landlords are represented properly in leases, etc. Depending on the jurisdiction in Maryland, for example, tenants may be favored more than landlords and vice versa. I make sure that landlords and tenants are taken care of.
On the property management side, there is so little regulation that I spend time making sure that everyone is papered and protected.
To put this into perspective - the real estate business is highly regulated. Lawyers write up contracts, etc.; they must be part of local boards and national associations which oversee the process. Real estate agents must be licensed. To become a licensed real estate agent, there is an education process that is required and then you must pass a test and state exam.
There is nothing like that on the property management side. It is self-managed; anyone can be a property manager… There are no regulations in place, no rules and no code of ethics to oversee the craziness. You'll find plenty of liability and litigation, though, and mine fields that both landlords and tenants can walk into.
Chesapeake Property Management tries to make the process easier. We have landlords who have gone with other property management companies; they will come to us and complain that they can't get in touch with their property managers or that they never see rent payments. That's very frustrating.
We've heard of some landlords who will sign away their rights to a property management company and lose all control. That's when a lease becomes between the tenant and the property manager rather than the landlord; that's when checks stop coming, Those situations don't happen under our watch at Chesapeake Property Management.
We can maneuver into smaller nooks than large companies and assist people with all their needs. We make sure landlords and tenants buy into and participate in the process. There is a lease between the landlord and the tenant. There's an agreement between the landlord and the property manager. After all, it's the landlord's house. We make sure that everyone has insurance and is protected as much as possible.
One of the reasons that Yaffe Real Estate and Chesapeake Property Management are still here is because we actually care about our clients and customers. Even if their credit isn't good, I'll talk to them and answer questions. Everyone deserves to have someone listen; I try to help them. I try to bring some sense to an unregulated process.
Linda:
What do you love most about your role?
That we all care so much about our clients and customers. That it's different every day.
I love getting to help people. My big reason for existing is to help people. I'm a psychology major by education; I practice it every day. It applies across the board whether I'm helping a landlord find a new tenant, or helping people find a new home, or speaking to people that others won't give the time of day to because there isn't much money there. (BTW who's to know that someone won't come back when there is more money involved?)
Linda: What do you love about being part of the Yaffe Team?
In addition to what I just described, it's just fun. It's different every single day. If something or a solution doesn't exist, we are able to create the solution. That's how Chesapeake Property Management came to be. What we do comes out of a client need. As a result, after 17 years, we now manage 170+ properties.
Linda: How do you see real estate changing?
Everything happens in cycles. Right now, it seems that property management and rentals are the way to go because a lot of people are younger and choosing to rent for flexibility. It means they can take contract jobs and go wherever they need to. For spontaneity, rentals are better.
Also, adults are waiting to settle down with families; they can take advantage of renting somewhere fun like downtime Baltimore. That's great to do without kids; you're close to restaurants and fun active neighborhoods.
For others, they are relocating for jobs, and not ready to purchase. They don't know the area, and prefer to rent until they get their bearings.
I'm seeing lots of growth farther out. For example, there may be fewer new buyers in Owings Mills, but in my county there's more growth and new construction.
Linda: What advice to you have for buyers, sellers, renters, landlords?
Here's my advice.
For renters/buyers - know your credit, pay attention to it because it's a big deal. Lots of people do dumb things when they are young. That said, don't open every credit card that's offered to you and then accumulate debt. This will bite you. I see that frustration on a daily basis - people who wish they had taken care of it sooner. Don't wait. Fix it. It does matter.
For renters - pay attention sooner. I often get calls from people wanting to move in by this weekend. Plan ahead. Think about your move at least a month ahead.
For buyers - go take a look at an area that interests you. Go see where you want to be. Know where you are comfortable. Not just the house, but also the neighborhood, the commute, the schools, etc.
For sellers – be current; pay attention to the current market, rather than what the market was like 3 months ago. The spring market starts and ends earlier, so be prepared and come to us sooner so that we can take the time to do everything correctly.
For landlords – you need to be invested in the process if you're serious about doing this. You need to pay attention to your house, and be prepared for things breaking. It happens. Plan ahead for these things.
Linda: What do you like to do outside of work?
My kids are my free time. I constantly run them around to soccer fields. In fact, I picked my car based on the number of kids and amount of equipment it holds.
Linda: Thank you, Kristin! And thanks for being part of the Yaffe Team!