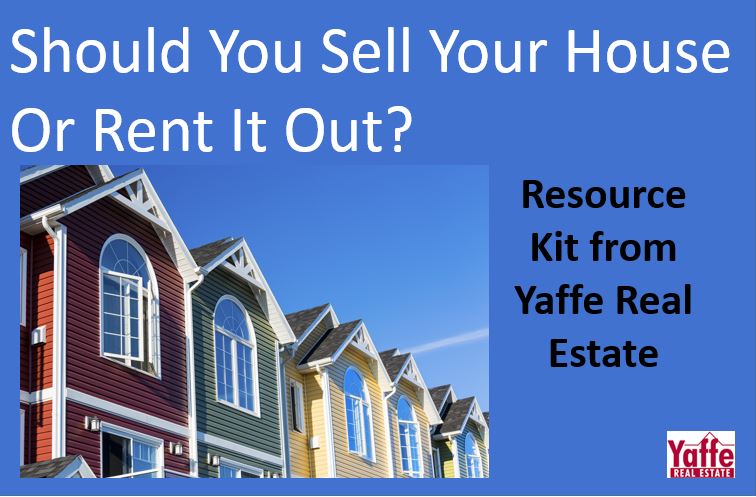 Every day, the most common question I answer is Should I Sell or Rent Out My House?
>> See Don't Sell Your Home... Until You At Least Look Into Renting It Out!
>> See 8 Reasons To Rent Out Your House Rather Than Sell It
>> See Is Your Home For Sale And Not Selling? Time To Rent It Out!
>> See Should I Rent Or Should I Buy? (Infographic)
>> See Should I Sell My Home Or Should I Rent It Out?
Why does this question "Should You Sell or Rent Out Your Home" continue to come up?
I think because, even though prices have improved, they have not improved enough to excite people to sell. Homeowners had hoped for more - more appreciation, a better return on investment, more validation that buying was the right decision years ago - just a better situation so that they could move on with their lives. But the appreciation is just not there.
So what should you do?
Should you stay in your home and wait for the market to improve while every day that passes you get more and more frustrated?
Should you rent out your home and move on knowing that there are risks associated with being a landlord?
Or should you sell your home, accept the market value and either walk away with very little proceeds or, unfortunately, have to bring money to the table?
These options do not get people excited and we understand their frustration. We are here to help you make the best decision for you and your family, knowing that there is a lot of soul searching involved.
See, real estate is emotional. We could have decided to get into the computer or car business. But we wanted to sell something that really mattered to people. And, when people's emotions are involved, their hopes and dreams lead to some pretty deep discussions.
>> See Not Sure Who To Trust In The Real Estate Business?
>> See 3 Reasons Why Yaffe Real Estate Got Started In The Baltimore Market
Your feelings, frustrations and emotions are real. And we get it. We truly care about our clients and do our best to give you the most up to date and thorough information possible so that you can make the best decision for you and your family. We know that two people with the same facts may make completely different decisions due to their temperament.
>> See Should I Sell Or Rent Out My Home? What Is Your Temperament?
After 25 years in the business and thousands of families served, we still are honored and humbled to be part of these most important of decisions.