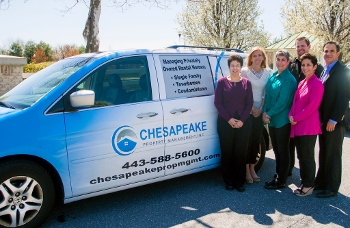 In 3 Reasons Why Yaffe Real Estate Got Started In The Baltimore Market, I mentioned that the same strong desire to provide professional, consistent, competent and high quality business guidance and service to clients inspired the launch of Chesapeake Property Management, Inc. in 1997. That's also what makes Chesapeake Property Management different compared to other similar organizations.
How Different is Chesapeake Property Management?
Very different as Kristin Karukas - pictured in the green shirt - reported back to the Yaffe Team after attending a recent property managers' meeting.
Most property managers refer to "doors" and properties. Although we use 'properties', we focus on the families living in those properties. Each door is actually a home and it's important to remember that.
In the traditional property management hierarchy, landlords are at the top and tenants, a necessary evil at the bottom. The reality is that tenants are as important as landlords for successfully managed properties.
Did you know that many property management companies hold leases in their own name? We do the opposite: we only hold leases in the name of the landlord.
Many property management companies advertise low teaser rates, hiding landlord fees and service charges. We are transparent with fees so landlords know exactly what to expect.
For many property management companies, evictions are acceptable; furthermore, they are a source of additional landlord fees. We pride ourselves on having had fewer than 5 evictions in 16 years of property management business.
Many property management companies outsource tenant applications and approvals, which in turn leads to higher eviction rates. We handle all applications and approvals in-house. That's how we've kept evictions so low!
We require tenant insurance.
To provide services for our landlords, we have built relationships with vendors who are licensed, insured and experts in what they do. Their rates are competitive; we charge no mark-up fees.
What Does the Chesapeake Property Management Difference Mean?
It means that we apply high professional standards to the services we offer landlords and tenants. Clients hire Yaffe Real Estate to put their property on the market, market the property to solicit tenant applications and find qualified tenants.
Tenant qualification is an intense process. It's time-consuming to sift through applications. We pull credit reports, run a background check, review references so we can assure our clients that their tenants will be responsible and respectful of the property. At the same time, we are able to assure our tenants that they have found the right neighborhood; we educate them about landlord expectations, property responsibilities and how best to become a part of the neighborhoods they are moving into. We want both parties to successful. (See Why Tenant Qualification Is Important.)
There's another aspect where CPM's difference matters. We see a bigger picture - one that goes beyond a one-time tenant/landlord event. Becoming a tenant is a step in a journey. From there, tenants may buy a home, sell it, buy another, perhaps even become a landlord themselves. Rental property makes sense as part of a financial plan.
The Chesapeake Property Management difference means that we are part of transitioning people through a process and It's really fun to be part of their milestones. These are real people and it's important to treat them well at every step of the process.
If you don't believe that the difference matters, check out the reviews that tenants and landlords have left about us.
If we can help you find a home to rent or help you rent out your home, please don't hesitate to contact us.