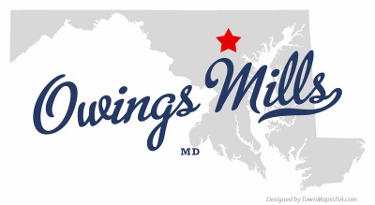 If you're thinking of buying a home, here are 11 reasons to do so in Owings Mills, Maryland.
Why Buy a Home in Owings Mills, Maryland?
1. Convenient Baltimore County Location
Owings Mills is conveniently located in the northwest suburbs of Baltimore county.
Many Owings Mills residents commute to jobs in Baltimore County, Baltimore city and to Howard county. In addition, there are also residents who commute to Anne Arundel County and Washington DC via the MARC train. We are also convenient to the beach, the mountains and many other great cities up and down I95.
2. Plenty of Employers Are Located in Owings Mills.
Many employers call Owings Mills home such as the Baltimore Ravens, T. Rowe Price (they have a beautiful sprawling Owings Mills campus), ADP, Carefirst and Centric Business Systems.
3. The Baltimore Ravens Training Facility is in Owings Mills!
Have you heard of the "Castle"? If you have, then you must be a Ravens fan! Owings Mills is home of the Baltimore Ravens' Under Armour "castle", i.e., the training facility and headquarters for the team.
Since the Ravens spend so much time practicing in Owings Mills, most of the players choose to live in the area. You will often see the players running errands - dry cleaning, food shopping, dropping their kids off at school, etc. It really is quite common and they are an integral part of our community. If you're a Baltimore Ravens fan, be sure to say hello, but give them their space :).
4. Perfect Living Option for Johns Hopkins Hospital and University of Maryland Medical System Employees
Did you just get "matched" at Johns Hopkins Hospital or the University of Maryland Medical System? You can either live downtown within close proximity of the hospitals or perhaps you want to consider living in the Owings Mills suburbs. The Metro Subway runs from Owings Mills into the Johns Hopkins Hospital basement and has several stops in between. It is quite convenient and perfect for those hospital employees who want green grass and a quieter setting.
5. There Are Many Excellent Public and Private Schools In The Area
You'll find excellent schools in the Owings Mills area whether you are looking for public or private schools. If you are a sports fan, then Mcdonogh is a great school for your family; it boasts the #1 girls lacrosse team in the country. Other excellent private schools located nearby include Garrison Forest School and Gerstell Academy. With a plethora of private schools, many new residents are overwhelmed by all of the educational choices. We are used to it and can help you navigate through all of the options.
And, yes, we have excellent childcare also. Check out the Owings Mills JCC, a Small World, Goddard and many other excellent choices.
6. Explore the New Owings Mills Public Library
Owings Mills has a new public library. The six-story, 120,000 square foot building overlooking the Northwest Expressway (Interstate 795) has been designed to house a new branch of the Baltimore County Public Library, as well as an expanded location for the Community College of Baltimore County (CCBC).
This is part of a project called Metro Centre at Owings Mills, a mixed-use transit-oriented development that, when completed, will include commercial office space, retail space, as well as residential units, educational resources and more. David S. Brown Enterprises is working hard to create a "sense of place" in Owings Mills. (See Ribbon-Cutting Planned For Completion of Road Connecting Metro Centre at Owings Mills to Owings Mills Town Center.)
7. New Shopping Is Coming To Foundry Row
Owings Mills claims its own mall. However, as with many malls around the country, the Owings Mills Mall needs to be redeveloped. And it will be but we are just not there yet.
In the meantime, there are plenty of other shopping opportunities including the new Foundry Row in Owings Mills that is being developed as we speak - Wegmans is coming and many other excellent stores and shops.
8. Quirky History Gives You More Reasons to Enjoy Owings Mills
Despite the name, Lakeside Boulevard has no lake! Many people ask me where the lake is, but it just never happened. Read the history of Owings Mills New Town and you'll learn more of the story.
Despite the lack of a lake, you'll find plenty of outdoor activities close by - check out Soldier's Delight State Park which borders Owings Mills New Town.
9. You'll Love These Owings Mills "One of a Kind" Restaurants That Only the Locals Know About
These are some of our favorite restaurants in the Owings Mills area:
And, of course, we have plenty of chain restaurants. You name it, we have it.
10. Great Owings Mills Community Events!
Owings Mills offers community events year round so you have an opportunity to meet neighbors and enjoy yourself. Some examples include local farmers markets as well as:
11. Where to Live in Owings Mills?
So you are moving to Owings Mills. Where should you live? The good news is that there are lots of options available. If you want to rent an apartment or individually owned home or if you want to buy, there are condos, town homes and detached homes, Yaffe Real Estate can certainly assist you.
Regardless of your housing preference, we can help you find your next home.

I'd love to hear what you love most about Owings Mills. Drop me a line when you get a chance.