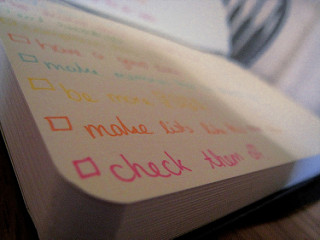 Wondering how to prepare to sell your Baltimore home in 2016? This 10 point planning checklist can greatly reduce the stress associated with figuring out all the details.
Most "preparing your home for sale" checklists only address staging, decluttering and clean up. As important as those items are, they are only part of the preparation needed if you're selling your home. The ones that are missing not only greatly reduce your stress, but also put you as the seller in a stronger position.
Our mission at Yaffe Real Estate is to help you move forward in your life with as little stress as possible. This 10 point planning checklist fills those blanks and allows you to better plan and prepare so you can reach your goals.
10 Point Checklist to Help You Sell Your Baltimore Home
1. Declutter, clean up and stage your home
Yes, you do need to declutter, clean up and stage your home. This is obvious; we live one way but we want to show off our home another way. Remember how spacious and neutral the home was when you moved in? You probably thought that you would never fill all of that space? Yes, I know, you now have so much stuff that you are bursting at the seams.
>> Help Sell Your Home With Staging: Interview With Home Stager Joy Waida
You have to empty out the home and take it back to how it looked when you purchased it. Throw out, declutter, clean up, organize, neutralize, spruce up, etc. For inspiration, check out 10 Creative Ways to Declutter Your Home and 20 days, 20 ways to declutter your home.
2. Look for your original home purchase paperwork
Do you have copies of inspections in your original home purchase paperwork? You will need to provide your Realtor with lead paint inspection reports, plans of the property lines, radon reports and anything else that may be helpful to a smooth transaction.
If there are gaps in your home owner paperwork, better for you to fill them in now prior to having a nervous buyer on your hands.
3. Schedule home repairs that you have been putting off
Now is the time to schedule all of those home repairs that you have been putting off for awhile. Don't go for the cheapest guy in town. Be sure to hire only licensed and insured contractors and provide those receipts to your Realtor to give to your buyer.
4. Consider scheduling pre-sale home inspections
Yes, I know that you don't want to spend the money. However, it is so much better to know ahead of time what is going to come up in a home inspection so you can fix everything before you are in a home purchase contract.
Once you are in a contract and repairs come up on an inspection, you will have to deal with nervous home buyers, dramatic agents, lender scrutiny, appraisers, etc. And you will be on a deadline for repairs so you may not be able to shop for pricing and do things to your satisfaction.
Once again, taking care of issues ahead of time is your best bet.
>> Full Disclosure: How Pre-listing Home Inspections Even the Score for Sellers
5. Know your home mortgage payoff amount
Contact your lender, either online or on the phone, and know your mortgage payoff information. Make sure you are current on your mortgage and that there are no outstanding issues.
By knowing your numbers, once you receive an offer, you and your Realtor can quickly calculate your net proceeds and decide how to move forward.
6. Contact your HOA and your Condo management company
When you contact your Home Owner Association and/or your condominium management company, you can order updated rules and restrictions, make sure that you are up to date on your fees and find out whether there are any lawsuits or major issues in the community.
Did you know that per Maryland law, a buyer must receive these documents or they have a right to back out of the contract? There is nothing worse than a Seller finding out about lawsuits or outstanding issues while in the middle of a contract. Not good and the buyer usually always backs out.
7. Find a great Realtor and get knowledgeable on the Baltimore real estate market
Find a great Realtor, like those at Yaffe Real Estate, who can give you a realistic picture on pricing, days on market and what you can expect in the Baltimore Metro Area real estate market.
>> Not Sure Who To Trust In The Real Estate Business?
Check pending home sales not actives, be realistic, and find a local expert who knows what they are doing. So many people get "sucked in" to those Realtors who tell them what they "want to hear" not what they "need to hear".
Better to know the truth now rather than have your home sit on the market or have an appraiser bring your price down.
8. Strategize your move
Do you know where you are going once you sell your home? Have you planned your move? Work with your Realtor to see the "big picture."
Sometimes sales move very fast and not always on your time table. By planning ahead, you can greatly reduce your stress.
Looking to buy a new home? Let's talk to a lender now and don't overlook how important it is to go local and work with Baltimore experts.
Relocating to a new state? Let's look at the relocation package now.
Have a limited schedule?

Let your realtor know when you can move so that can be communicated properly to the potential buyers.
9. Listen to your Realtor!
Once you have chosen a great real estate agent, listen to them. There is so much to do in the process of selling your home, that it is so important to be on the same page with your agent. If you focus on packing, clean up, and where you are going, your agent can work on pricing, marketing, showings and negotiating. Turn it over to the experts and, if you don't feel good about your Realtor, find a new one asap.
10. Sit back and relax… as much as possible
Yes, moving is stressful. However, once you have done all of your homework and addressed all 10 points on this planning checklist, enjoy those small moments of peace until your Realtor calls and says…"Congratulations, you have an offer to buy your home! Can you be out of the house in 2 weeks?!"