Are you moving to Towson, Maryland? Great! Towson is the County seat of Baltimore County and it is an awesome place to live and play.
Here is what you need to know about Towson:
1. Towson: a Mini-City
Towson is a mini city and has lots of great restaurants, locally owned shops, and fun things to do.
Enjoy great yoga at Sidyoga, awesome restaurants like Bread and Circus and Cunningham's, great community activities like the Towson Farmer's Markets and even more community activities at the Towson Library and the Towson YMCA. Whatever your interests and hobbies, Towson has it.
>> See 5 Favorite Baltimore Area Neighborhoods
2. Towson, the University Town!
There are lots of college students! With Towson University right in the heart of town and Goucher College down the road, you will see lots of students. And Towson is only a few miles from Johns Hopkins University, Stevenson University, and Loyola College. So enjoy all of the college students! Yes, occasionally there are some typical college antics but nothing unusual. These students are fun and welcoming and you will see them working at all of the local establishments.
I picked up bagels recently from Towson Hot Bagels and it was all students. I overheard the girls behind me saying "I didn't know that any regular people lived here." They were talking about me! All fun. And, as local Baltimoreans, we love the energy and excitement that these young people bring to town.
3. Mind the Towson Zoning Rules
You do need to follow zoning rules. If you own a rental property in Towson, you will be called by students to rent it out and you need to know the rules.
In Baltimore County, unless zoned otherwise, you cannot rent to more than 2 unrelated parties. This makes for all kinds of good stories and conversations. For example, 5 people may apply for a rental property and 4 are related while 1 is not. That is ok. But they have to prove it. And what is the definition of "related"? Are 3rd cousins ok? We have many interesting conversations with applicants as we attempt to comply with the laws and, when in doubt, we call the county.
>> See 17 Questions To Ask A Property Management Company Before Hiring One
4. Varied Architecture and Walkable Neighborhoods
There is quite a mix of neighborhoods and architecture in Towson. From the older communities of West Towson, Stoneleigh and Wiltondale to the newer neighborhoods like Towson Green, you can find a variety of housing styles and something to suit everyone's taste.
Most of downtown Towson is walkable from all of these neighborhoods so enjoy the old fashioned fun of a walkable town.
5. Towson is the Baltimore County Seat: Don't Speed!
Towson is the County seat so the courthouses and many government offices are here. Please don't speed as the police are everywhere! From guarding the courthouses to monitoring the students, Towson is a very safe place to live and work. Towson is quiet at night, except for the students, and busy in the day with government employees, lawyers and small business people. It really is a great place for everyone.
6. Conveniently Located, Too!
It is easy to get to everywhere. Towson is close to all major thoroughfares and you can get most anywhere within 20 minutes, depending on traffic and the time of day. So, you can live in Towson and work downtown or in Owings Mills and you will be fine.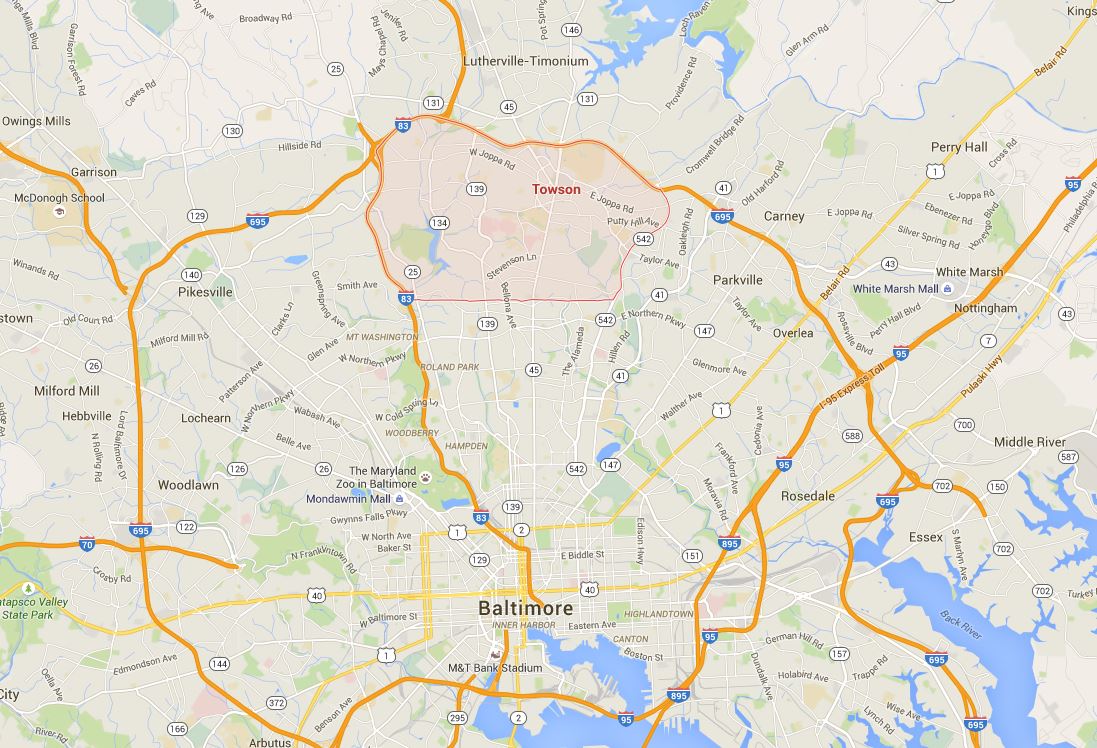 7. We Are Experts On Towson And The Surrounding Communities!
We have lived and worked in the Towson area for years and personally enjoy everything that Towson has to offer. So, give us a call or drop us a line. We are here to welcome you to our home town.